Which hose to use for extraction when working with wood?
Added: 25. 10. 2021 12:21:55 Views count: 245
25 October 2021
It is quite possible that you are lost in our offer due to the wide range of types of suction hoses in the woodworking industry. In this article, we will try to explain the main differences between the hoses in this section.

First of all, we should tell what purpose PUR hoses are used for. Thanks to the unique properties of thermoplastic polyurethane (TPU) from which we make hoses (it is not the same material that is used, for example, for making mattresses), hoses are able to withstand high wear when extracting abrasive particles such as sawdust, shavings, dust, sand, etc. ability is often associated with the hardness of the material. TPU has an amazing feature that allows it to be used for our RONDO PUR hoses - highly elastic and abrasion resistant at the same time.
RONDO PUR suction hoses should be divided into two categories due to construction.
1. Foil hoses are marked first. These hoses have perfect flexibility, so they are used for mobile applications with dynamic movements, such as CNC machines. Another advantage of these hoses is their price.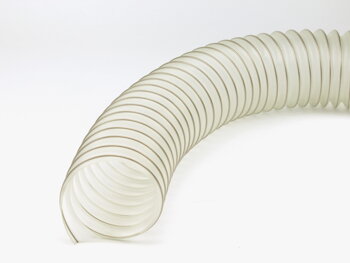 From these types of hoses, we are able to offer you 2 variants with a wall thickness of 0.4 mm and 0.5 mm
2. In the second category are hoses with a smoothed inner wall. Thanks to their construction, these hoses can withstand greater stresses due to pressure and vacuum, and at the same time they have a longer service life. The service life of individual types of hoses differs by the wall thickness of the hose material between the spiral. The thicker the hose wall is, the longer it lasts, but the less flexible is the hose.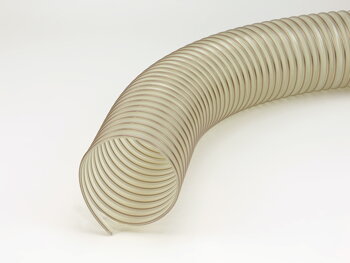 From these types of hoses, we are able to offer you variants with a wall thickness of 0.6 mm, 0.7 mm, 0.9 mm, 1.4 mm, 2.1 mm